Mobilegeddon? Why there's no reason to freak out.
If you haven't already heard about Mobilegeddon, it basically came of the back of Google stating that every one need a mobile friendly site. Which was great for the web design industry because it created a lot of extra business. But a knee jerk reaction isn't really the best way to go for your website.
When Google officially stated that a mobile-focused algorithm update was occuring on April 21, Mobilegeddon was enforced in full swing. And according to the Google Search team, this update had a bigger impact than Penguin and Panda combined.
What this did was prompt pretty much every business in the industry that hadn't addressed a mobile version of there site to get one done. Quickly.
However, some excellent studies have shown that there was a smaller-than-expected real-world impact of the mobile update, and like we've been explaining to our community a slap stick approach would do more harm than good. Having a mobile friendly site needs to be thought through properly because users of a mobile device (whether it a phone or tablet) have a different set of needs than compared to a desktop.
The discussion shouldn't be about Mobilegeddon. It's a pretty epic term to install fear into your online business experience (thanks to the media). Having a mobile website is important to your business and shouldn't the rushed through in haste.
Mobile Maturing
Almost any evidence of mobile and desktop internet usage shows mobile overtaking (or poised to overtake) desktop as the primary source of digital media consumption. For example, Mary Meeker's annual Internet Trends report shows mobile-based digital consumption at 51% in 2015: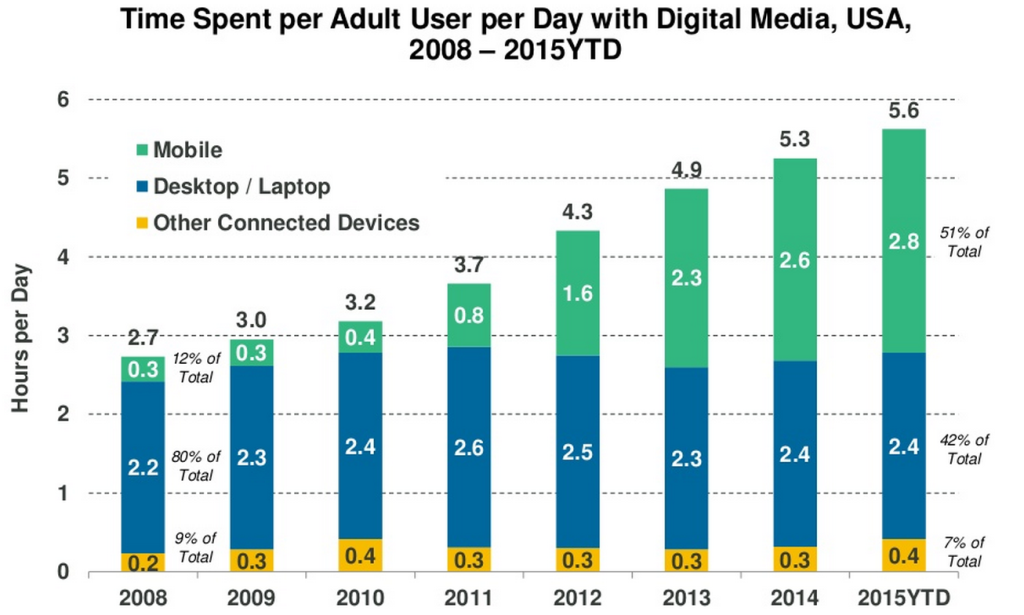 But as with any market increase the growth will always eventually mature and slow down. But it will remain a main factor in your digital strategy IF you look at your analytics data and confirm what your customers are using your website for.
Responsive v. Dynamic Serving v. Separate URLs
Personally .. I really dislike responsive websites. It's like those cartoons your see where you try and fit a bunch of clowns into a small car. Mobile is designed for quick dissemination of content.
But they are easy to sell and can be (if done correctly) an affordable way to spread your site's content over multiple devices.
There are other alternatives which need to be considered.
A quick definition of these three different types mobile implementations include:
Responsive design
From Google: Responsive web design is a setup where the server always sends the same HTML code to all devices and CSS is used to alter the rendering of the page on the device.
Responsive design returns the same URL regardless of device.
Dynamic Serving
From Google: Dynamic serving is a setup where the server responds with different HTML (and CSS) on the same URL depending on the user agent requesting the page.
Dynamic serving also returns the same URL regardless of device.
Separate URLs
From Google: In this configuration, each desktop URL has an equivalent different URL serving mobile-optimised content.
Separate URLs typically resolve as m.site.com or www.site.com/m/.
Each implementation needs to be matched with a business strategy. So you need to discuss this with your website partner.
If you want to find out more about mobile website design strategies, give us a call.
Gary Swanepoel, is web developer primary focusing with Business Catalyst, and works mainly for other digital agencies and design firms. Working accross a variety of fields he has exceptional experience in online strategies and marketing campaign to promote improve website performance.